The Best of All Worlds as Green City Market Moves Outdoors and Makes People Happy
Menu Monday will Come Out Later this Week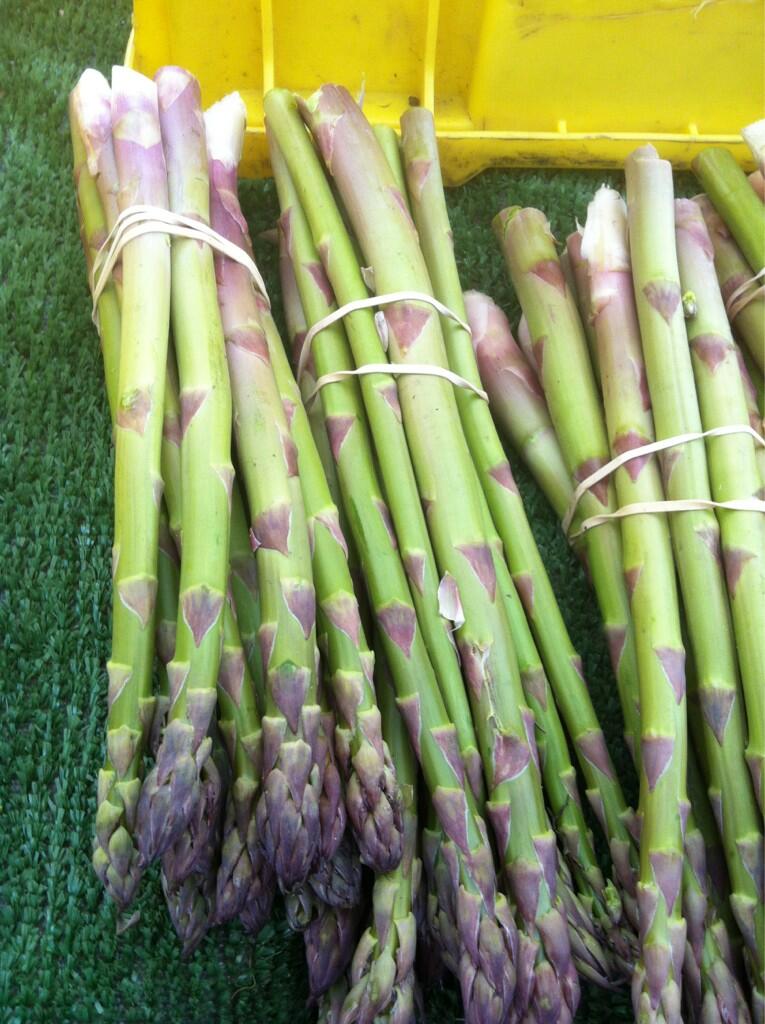 Picture Courtesy of Jeannie Boutelle
I love alliterations.  I'm not the only one.  Menu Monday's not nearly as popular as Meatless Monday.  While everyone else wants to talk about their vegan and vegetarian meals at the start of the week, I want to talk about all my meals starting this week.  I made Menu Monday a weekly blog thing because I tended to get most of my local food at weekend farmer's markets.  After I got, I'd start thinking about what to do with it.  Sharing those ideas became Menu Monday.  Granted, I'm getting most of my food these days, mid-week via my Tomato Mountain CSA*, but I still liked posting on Monday for love of alliteration.
I'm skipping Menu Monday today.  It'll be Menu Monday on Tuesday or Wednesday.  Instead, I wanted to talk a little about how great last week's first outdoor Green City Farmer's Market was.  It surely put to death any notion that there's no Spring local food.  The market had it all, old and new.  It was a very happy making market.
After a long period of eating from the root cellar, guess what I wanted more than anything at the market. Parsnips. Over-wintered, recently harvested by Beth Ecles's Green Acres Farm, super-sweet, leftover parsnips.  Parsnips are as much a seasonal treat as all that asparagus showing up at the first market. And I grabbed the parsnips first because asparagus will be around for a while. The parsnips will not.
It was not just the parsnips. My eye seemed most attracted to the old stuff at the Market. Nichol's and Three Sisters both had big selections of dried beans. Nichol's also had several varieties of heirloom potatoes, three kinds of winter radishes, and rutabagas from long ago. Vicki's Genesis Growers had aged beets and celery root, Tomato Mountain had stored carrots, and King's Hill, had potatoes, cabbage, and some odd root things as pictured: two varieties of scorzonera or salsify, also known as oyster plant.  To my warped sensibilities  all these remnants of winter made me happier than the new crops abounding.  See, everyone's happy for asparagus but a thriving local food system needs customers for celery root and salsify too.  It needs those things more because that's what we may have when the asparagus goes away.
That said, it was still glorious to see all the new items for sale.  My wife's stand, Tomato Mountain, had a range of Asian greens you never heard of including Tokyo Bekana. They sold fast after customers took nibbles.  Like most customers, we did pick up our first asparagus of the season.
As you can see, it was not done vegan style.
In other new, Green City Market keeps on getting better at providing the entire eat local experience.  After a few year's off, there's fresh, local milk again at the market, this time come from ;" href="http://www.castlerockfarms.net/">Castle Rock Organic Farms.  This stuff might just yank my wife and daughter out of their vegan stranglehold.  And friend of Beet, Dana Cox Lipe, is cooking market fresh foods to go through her Honest Meals Project.  I saw her at the end of the market, Saturday, and I don't think there was anyone more happy with the first outdoor market.  She was raving about the produce she found and the good use she made of it.
There were a lot of happy people that first outdoor Green City Market.  I believe there can be a tendency to overlook the market just because they've been doing the same great job for years.  Moreover, there can be a little, well jealousy is not quite the word, but I understand how other markets need love and other markets do well too.  Still, this market made, with its old and its new, made me a happy shopper the other day.
*My wife works for Tomato Mountain.