UPDATED! – A Local Family Eats Local Fish – Slow Food Chicago Presents Taste of Great Lakes at Dirk's – April 24
UPDATE: We recently heard from someone very expert in the ways of the fishing industry, and he gave us some more information on local fish. See below.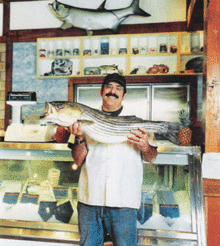 Last week I exhorted that the time to start eating local was now.  I promised that I would assist you on your journey by covering some basics on how to be a local family.  And really, I have all sorts of things planned out for this series.  Not the least, I have in mind a post (or posts) running through what to expect over a year of being a local family.  Then, I had to stop, not just stop my lessons on being a local family, but my work on producing our Passover Sedar, to make a report on the remains of our local food inventory.  I'm back.  Back to give lessons on eating local.  Yet, because of events on hand, I'm staying from the plan.
There's probably a lot more important issues to cover in terms of eating local than local fish, but on the other hand, you should, for sure, include fish in your eat local diet.  The Chicago area locavore has several options for fish, and for the sake of this post, let's not assume you do your own fishing too.  Your local fish comes from nearby freshwaters, primarily the Great Lakes, and it comes from nearby fish farms, including farmed tilapia and farmed rainbow trout.
Common fish found in the Chicago area*, at commercial outlets**:
Whitefish – both whole and fillets; also smoked – WILD
Lake trout – nearly always as fillets; also smoked – WILD
Northern pike – nearly always as fillets – WILD
Chubs – smoked – WILD
Smelts – seasonal, whole – WILD
Perch – fillets – WILD and FARMED
Rainbow trout – whole, fillets; also smoked – FARMED
Tilapia – most local tilapia is in fillets, usually frozen- FARMED
What to do with your freshwater fish?  Start by attending a dinner on April 24 being put on in a few weeks by Slow Food Chicago and local fishmonger, Dirk Fucik.  Dirk and his wife Terry will convince you to eat local fish with a dinner of distinctive regional fare, including that invader, the Asian carp.  The  family-style dinner includes eight course that were caught or farmed in environmentally friendly ways: smoked rainbow trout wraps, smoked whitefish spread, panko fried smelt, walleye sandwiches, Asian carp croquettes, plank-smoked lake trout, Tempura perch, and Dirk's "Cook County" fish boil.  To read more about the dinner and get tickets, go here.
Local fish, like a lot of things, goes well with bacon.  We call it in the Bungalow, fish in a sweater.
Find a fresh, whole Great Lakes whitefish. Notice the bloody gills in this shot indicating freshness! Wrap in bacon. Roast in an oven pre-heated to 400 for about 15 minutes, or until bacon looks done. Enjoy.
UPDATE: We heard from local fish local fish maven, Carl Galvan, on the current state of our local fish. He write, "Over all, fishing is good on the Great Lakes!" He also notes that "perch harvests remains very stable" and "with the addition of the staples of whitefish, walleye & local trout." Finally, he adds, "we are also expecting limited landings of Pumkinseed Sunfish, Batchawaka Bay Crappie & hopefully some Canadian Barbot [sic[]".
*Other freshwater fish may be available in different parts of the Great Lakes region.  For instance if you go to Washington Island, in Door County, you can find the king of Great Lakes fish, burbot, or "lawyers".
**Even more freshwater fish available to those that catch their own, especially coho salmon.  Do make friends with someone with a boat for this prize.